Adventuron
Adventuron is a text-adventure authoring tool, used to create games playable on desktop, mobile as well as old computers.
Check out the documentation and a list of games made using Adventuron.
What Are Text Adventure Games?
Text adventure games are games in which you interact with the game using text based command inputs (typed, touched, selected, or spoken).

Learn To Play Text Adventure Games
If you don't know anything at all about text adventure games, then try one (or both of the following):
Play Cave of Magic TALP, which is a 5 minute interactive guide to playing text adventure games.
Or ....
Export to 8-Bit Platforms
Adventuron supports exporting games to 8-bit platforms such as ZX Spectrum (with graphics), ZX Spectrum Next (with graphics), Amstrad CPC (text only), and Commodore 64. (text only)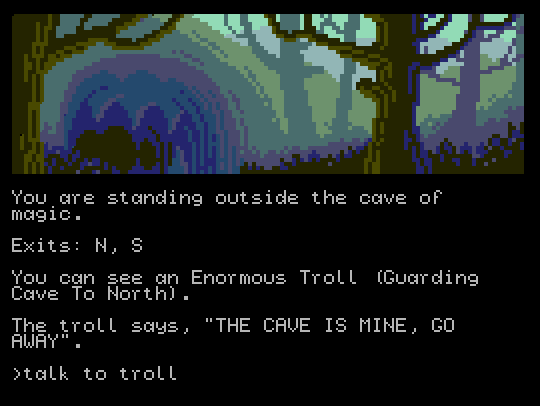 Adventuron Game Authoring
Adventuron games are compiled to a standalone HTML file that can be easily shared with friends, or published online.

Watch this video to see how a small game is authored.
Game-Jams
Adventuron runs gamejams approximately once every 3 monhts.
Gamejams are competitions that where participants have to create a game in a time period, and will compete against others, based on a per-jam set of rules.
Please join in if you have time.
Links
Adventuron Classroom (hardware keyboard required for code editor).

Twitter
Follow on Twitter : @LearnAdventuron
Games (self-authored or self-ported)